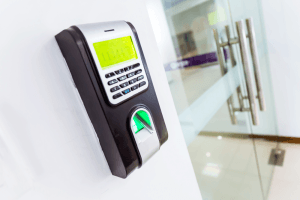 Why Your Business Should Upgrade Its Access Controls
The latest FBI statistics reveal that 26% of all burglaries in the United States happen within business buildings. The majority of these are classified as unlawful entries, in which the burglar enters through the main entrance without the use of force. They are just walking right in! This burglar could be a complete stranger, or an employee, who gains full access to the property and anything they can get their hands on.
Most businesses today ensure the virtual security of their proprietary information on devices such as servers, desktop computers, smartphones, laptops and tablets. However, what should additionally be considered, is the security of the actual building. With this concern in mind, many business owners look to access controls.
Why Use an Access Control System
Whether a business installs simple key cards, or a more sophisticated biometric palm, eye or finger reader, an access control system provides the peace of mind that the business is more secure. It allows for business owners to decide who enters the business, which areas they have access to and allows for tracking the activities of everyone inside the building.
The systems can offer added convenience, reliability and cost savings by implementing a solution that removes the need for a key. With keyless entry, there is no energy wasted from worrying about lost or duplicated keys, and no need to physically change the locks if a key does get compromised. Overall, access controls offer the physical security businesses need, and additional efficiency.
What to Look For
When choosing the right access control system for your business, the first things to consider are what your needs are and how the system can most effectively meet them. Here are some key features that should be considered:
24/7 monitoring
Video surveillance
Tracking and activity reporting
Card management options
Software without hidden costs
Networking capabilities
Free software upgrades and warranty
Help and Support
Doing business today is more complex than ever before. New threats to security abound as you navigate a new world of business communication and technology. Whether your business is small, medium or large, the most important way to protect your property, information and employees, is to make sure your access controls are up to date. As you choose your provider, you should never have to second guess your access control system. Make sure to choose a security company that is well-established and provides ready help and support whenever you need it. Contact Mcs proto learn more about installing a system today.