Complete Solution to Secure Your Airspace
Reasons Why
There is hardly any other technology currently developing as fast as drone technology. However, the increase in drone efficiency also means more opportunities to misuse them for criminal purposes. When your airspace is exposed, no longer are fences, video cameras, and security guards adequate to protect sensitive buildings or personal.
Scalable for sites of all sizes
DroneTracker is the only modular drone detection system on the market that can be adapted to your specific threat situation and the special conditions on-site.
Small sites
with partial protection
Use one or a few DroneTrackers to protect especially sensitive areas of your site or building, for example certain offices and conference rooms, or areas that are exposed to vast areas outside your fence.
Middle-sized sites
with full protection
Protect critical buildings, inner courts or sensitive areas from all sides against drones and monitor the airspace around the clock. All sensors will be configured and managed centrally through our platform.
Large sites
with maximum protection
Install any number of DroneTrackers and add other external sensors in order to protect a large site. You can easily integrate third-party drone countermeasures such as jammers via APIs.
Platform for airspace monitoring
Dedrone's DroneTracker platform provides a complete airspace monitoring and managing solution through a convenient browser interface. DroneTracker allows users to readily configure multiple sensors, active and passive countermeasures, and alerts for automatic, 24/7 operation. The software continuously displays real time airspace information, and detects and identifies drones using Dedrone's DroneDNA advanced analysis and pattern recognition capabilities.
Defensive measures against hostile drones can be activated automatically, with security services notified as appropriate.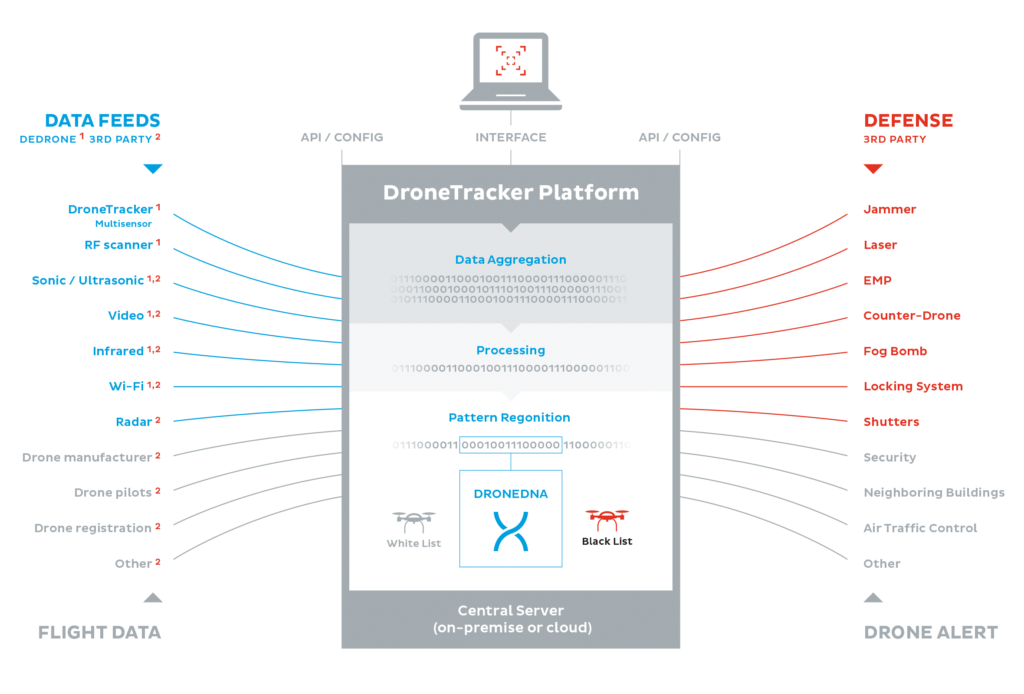 Contact us for a product presentation!
Experience a pilot from the Dedrone team fly a drone live over a protected building. Watch the sensors trigger an alarm by means of the software. Track the drone's flight on the monitor.